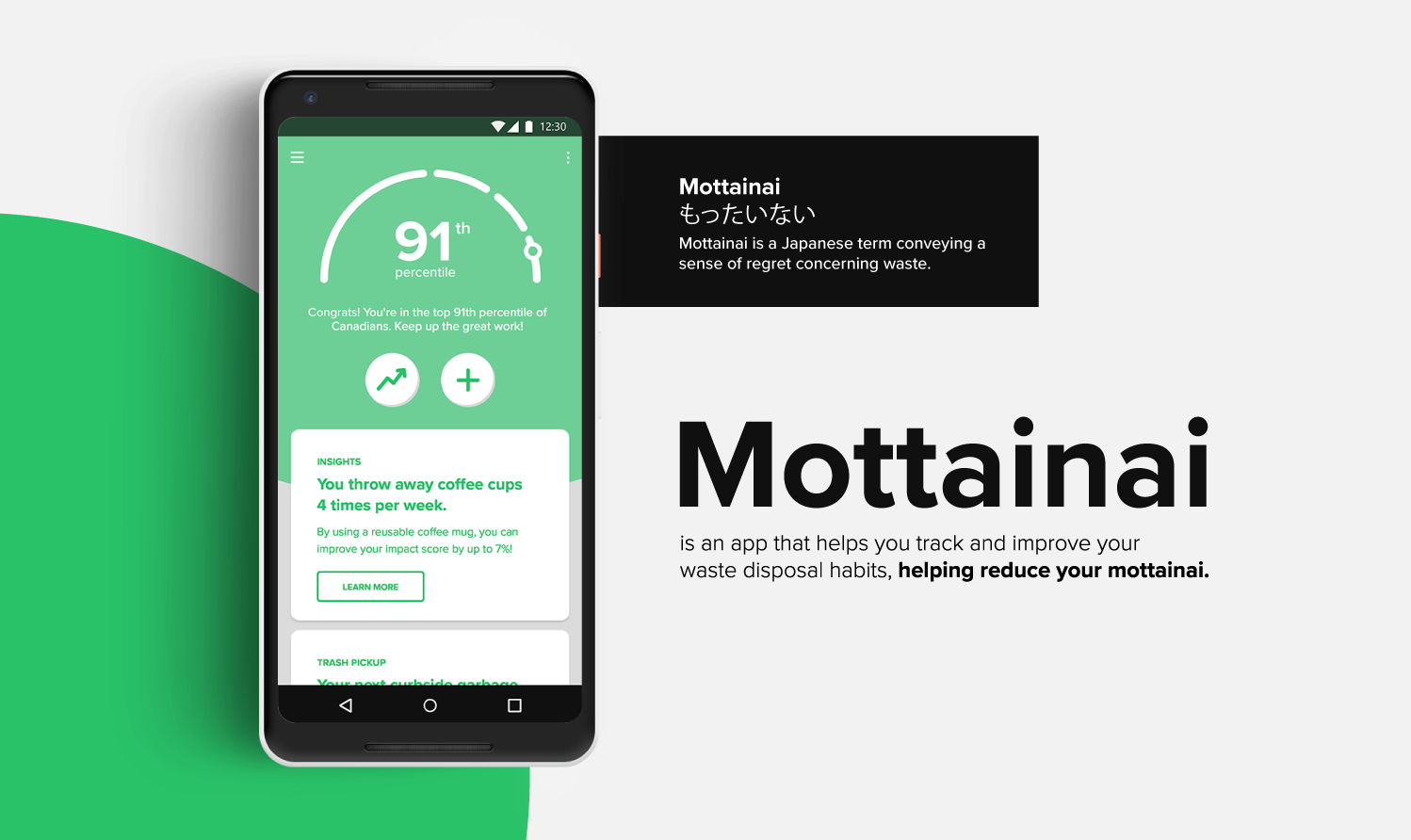 Overview 
The improper disposal of waste items hurts us all in different ways, from hazardous materials contaminating our soil, air, and water; to increased costs to municipalities incurred because of repairs to damaged equipment caused by non-recyclables being added to the recycling stream(1). In addition to this, once we throw away our waste we often forget about it, and do not reflect or learn about how much of a negative impact we are making on our planet.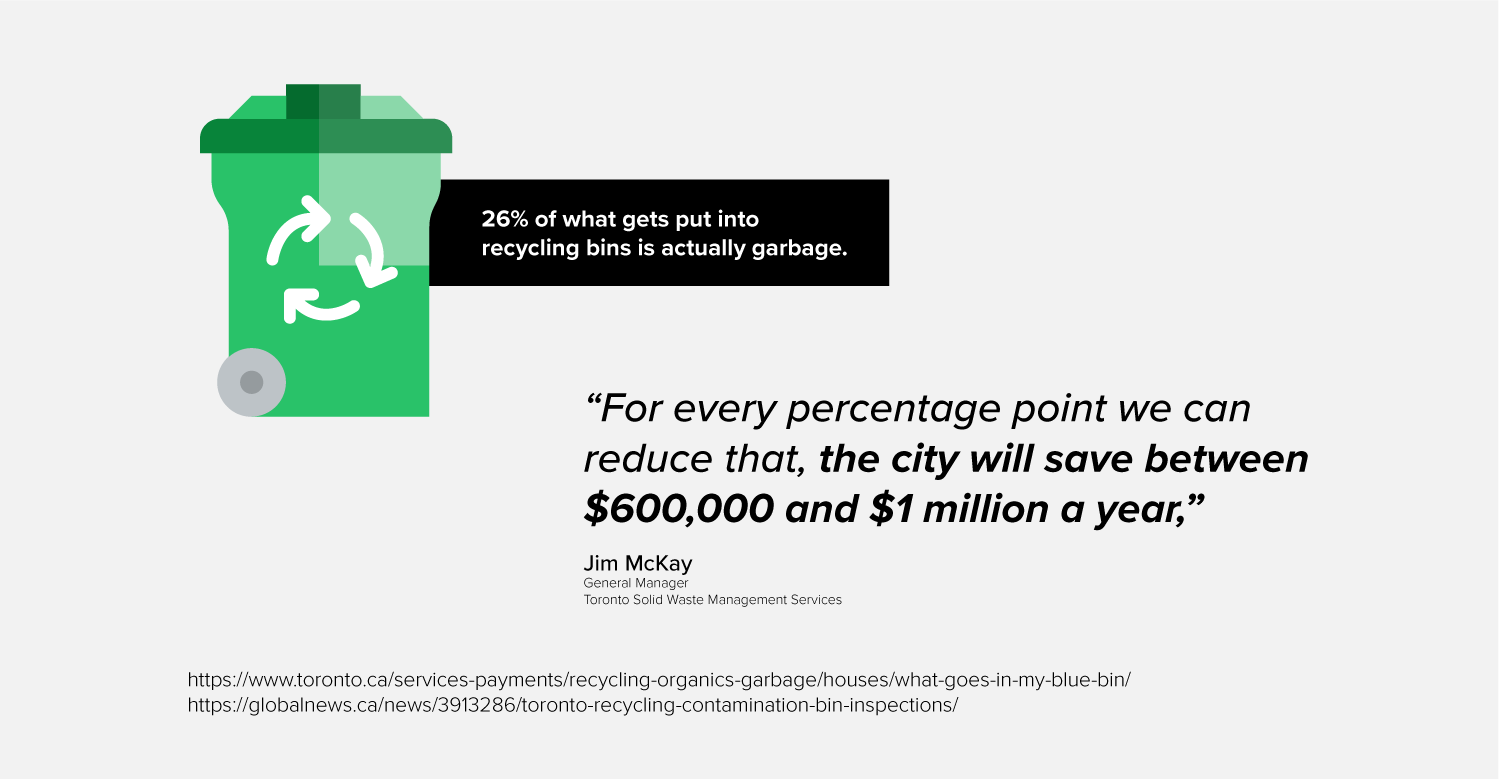 Introducing MOTTAINAI, the app that tracks and informs you about your waste production habits, while also informing you how to correctly dispose of waste material, and providing useful insights based on your data about how to reduce your environmental impact.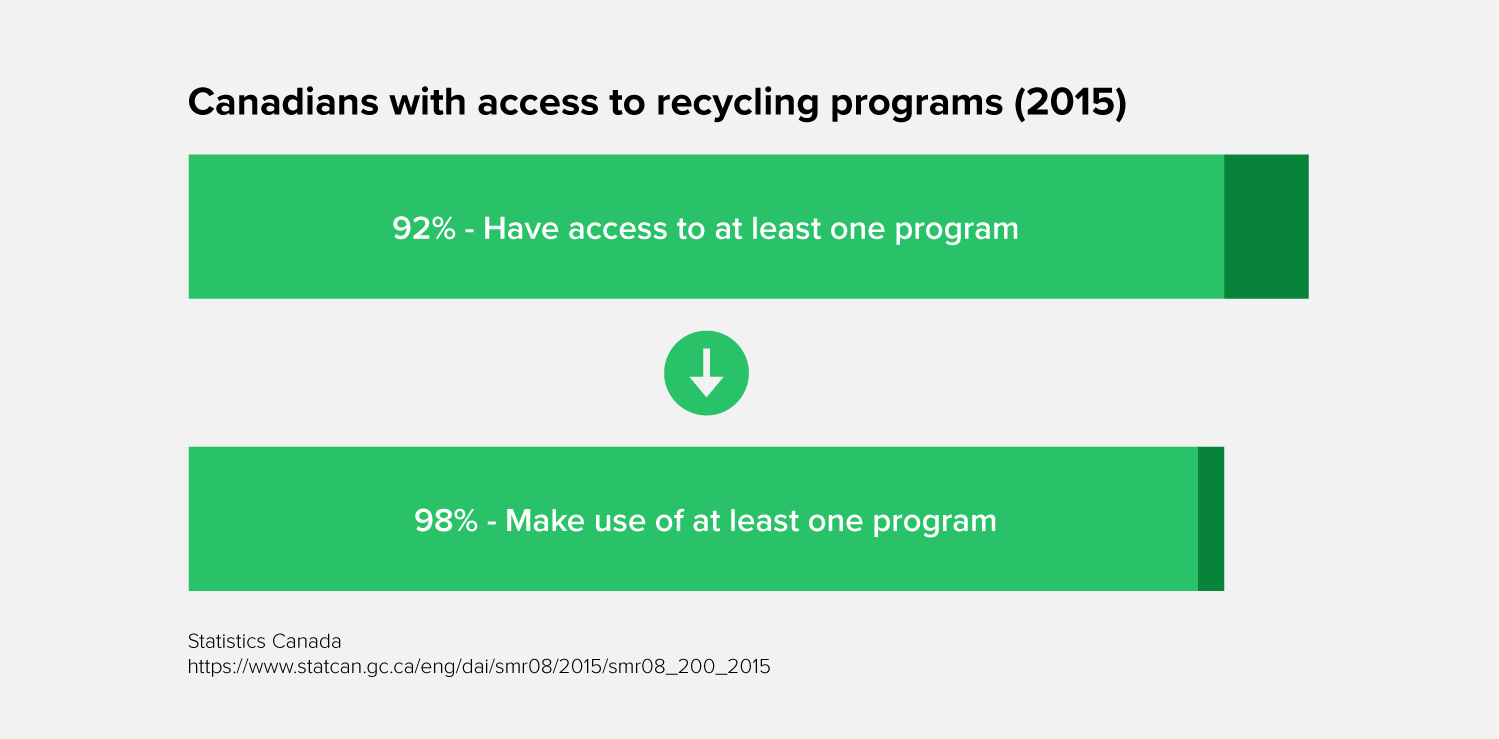 Problem Statement 
Environmentally conscious people need a way to gain insight into the impact of their habits on the waste they produce leading them to make more informed decisions to reduce their environmental impact. 
Research & Features
During the conceptual development phase, I found that 92% of Canadian households had access to at least one municipal recycling program, and that 98% of this group of households made use of at least one of the programs available to them(2). Based on these statistics, an app solution focused on creating awareness of recycling habits and their impact will help users reduce their overall waste output and make more informed and environmental friendly recycling decisions, and over time impact consumption habits.
Applications that track regular input from users and provide insights based on their data (calorie counters, nutrition management, sleep & meditation journals, maintenance logs) must ensure that users are motivated to continue logging their data. Should they miss a few days, they may stop using the app entirely(3). To solve this problem, I applied two solutions: simplified input entry and encouragement through gamification.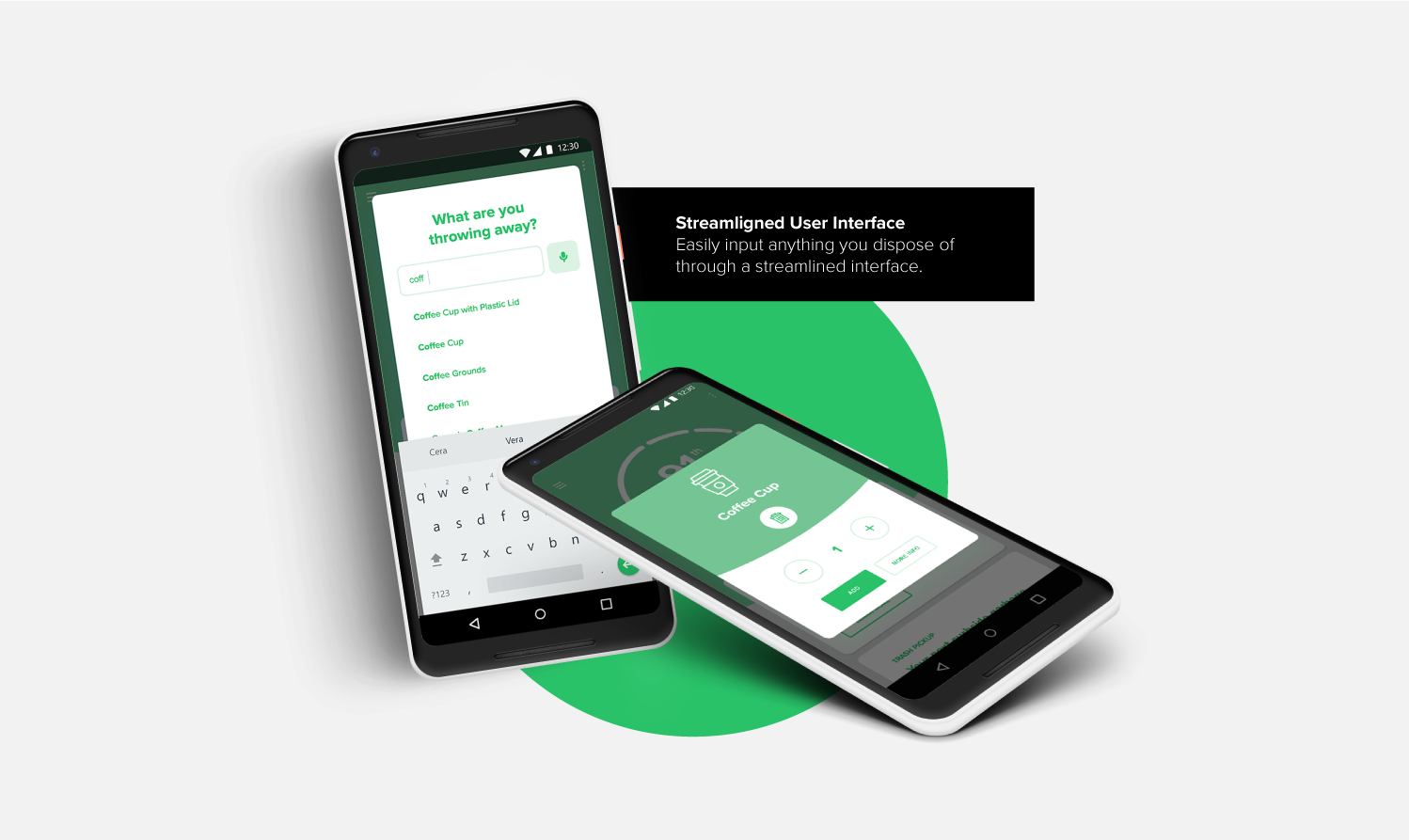 The data entry interface allows the user to search for an item and enter an amount. Icons indicate how to dispose of each item, and tapping shows more detailed recycling and disposal information. For the gamification component, users compete against each other to display the best recycling and waste disposal habits vying for the best environmental footprint. Achievements and rewards could be offered to make it more exciting. To further incentivize use, the application could also show offers for environmentally friendly alternatives to recently disposed items.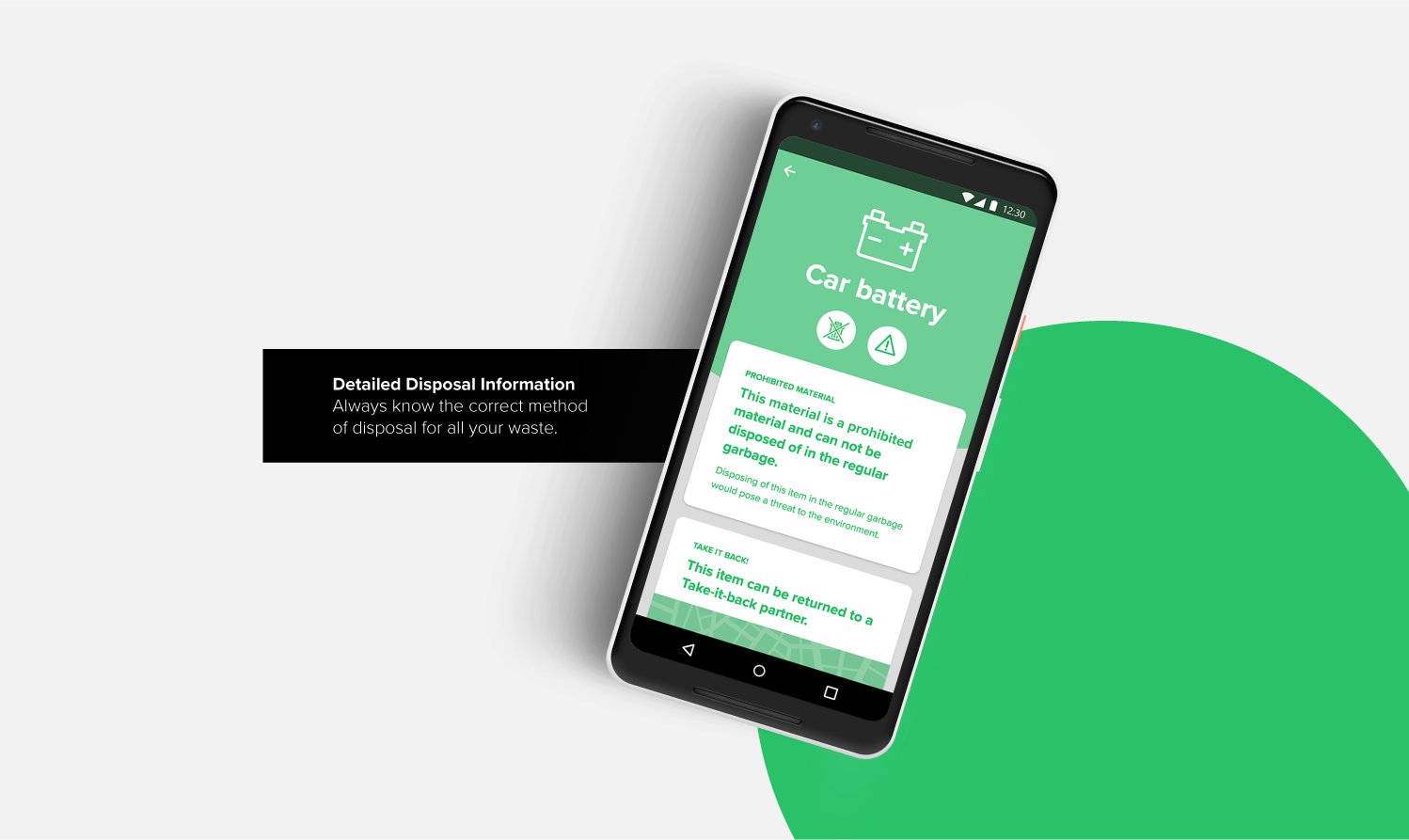 Different municipalities across Canada have different recycling regulations, to gain the most accurate information, the application automatically syncs with your municipality's waste disposal information database (e.g. City of Ottawa Waste Explorer(4),  Toronto's Waste Wizard(5). This makes it easy to inform the user of how to dispose of each item, such as special instructions for hazardous materials. 
Conclusion
In my research, I found that no applications currently exist that allow users to log their waste disposal habits, most existing apps only offer pickup calendars and disposal reminders. I do believe environmentally conscious users will be willing to use the application – in the long term, the application has the potential to partner with municipalities and companies to offer metadata that can be used to develop solutions to enhance their waste and recycling management processes.